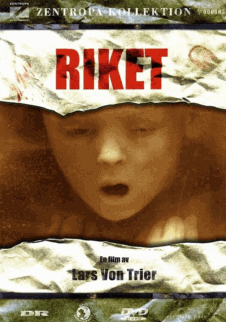 Then: Once, right on the spot where the bleachers used to work, they built "Rigshospitalet" (more known as "Kingdom Hospital" to English speakers, I assume...) to the praise and enforcement of knowledge...
Now: For the gazillionth time old Mrs. Drusse has been taken in to the great hospital for observation. But she's not sick; she only wants to get in tune with the spiritual denizens of the old crumbling building... And she has come into contact with the manifestation of a small girl with a restless soul. Thus, the old woman wants the girl to get into the light, so to speak...
The Swedish doctor, Stig Helmer, disinherited surgeon cast away from his own country, has been hired by "Riget" and though he hates all that Denmark stands for the grudgy and cynical Dr. Helmer has to put up with the strange people and their unscientific methods. Above all, he has to cope with that woman accusing him of making her little daughter a vegetable through a failed brain surgery...
The walls of "Riget" are beginning to crumble with the forces of the supernatural. More and more frequently strange things are happening within the hospital and among its staff -- the girl child is roaming the elevator shaft; an ambulance without patients or drivers appears and disappears; there is a peculiar freemason lodge among the executives, and two Down syndrome dishwashers predicting the future; the son of the hospital director cuts of the head of a corpse to impress on a lady colleague he fancies... and many more strange and uncanny events will follow...
Finally, I've started watching Riget and Riget II (aka. The Kingdom: Denmark, 1994; 1997). I have a faint memory of it from my youth, but I wasn't able to follow it through (even less understand it). However, a few years ago a found these "zentropa kollektion"-discs for a bargain at the local videostore (incidentally, the first case with carried the Swedish title Riket while the other stated the original Danish title Riget II; an irregularity that I just have to deal with I suppose...)
Until now I've only watched the first two one hour episodes, but cannot see how it will be hard continuing to follow this series... and finding out, finally, what the fuss was about. I cannot say that I'm familiar and/or a follower of Lars von Triers work, but only to be able to see the acting and genious presens of the enormously talented and uniquely wayward Swedish actor Ernst-Huge Järegård (rest his soul!) is enough for me. For those of you who haven't seen it I more than highly recommend studying his performance on the rooftop of the hospital when he is watching the neighbouring Swedish nuclear power plants (always hated by this time by Danes and especially the Copenhagens), praising Sweden and cursing Denmark: "DANSKJÄVLAR!!!"